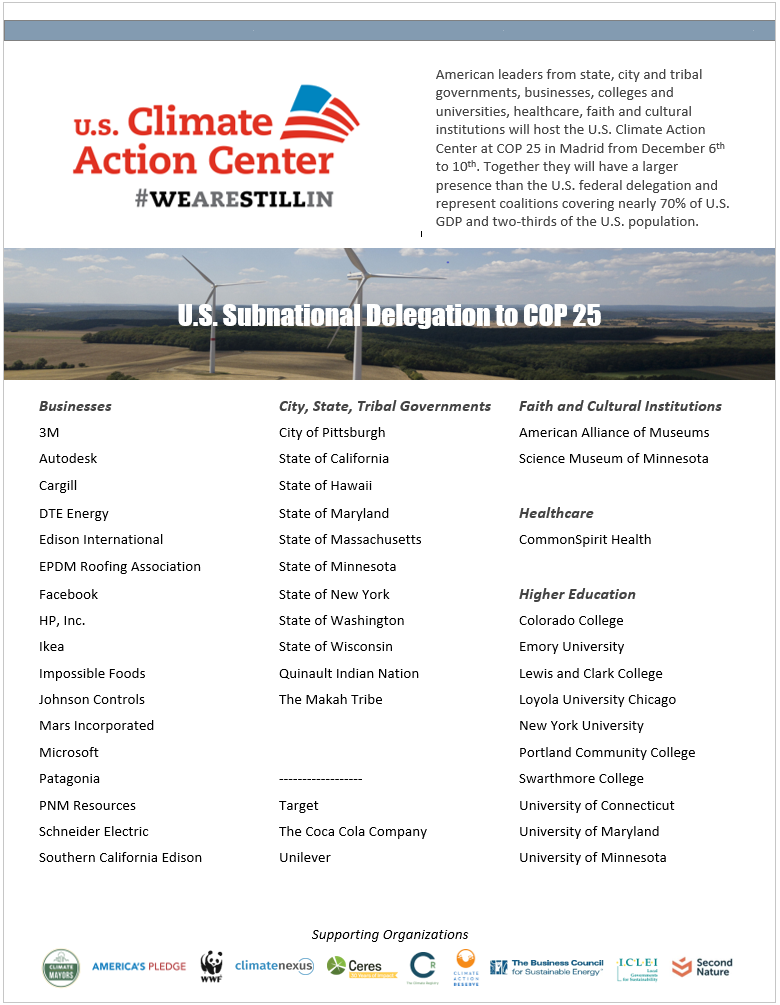 Delegation Statement:
Our bipartisan delegation of U.S. leaders is proud to represent the majority of Americans that support urgent climate action. Our delegation represents U.S. cities, states, businesses, universities, healthcare organizations, tribes, and cultural institutions that have declared their support of the Paris Agreement. Since 2017, this coalition has grown dramatically, now representing nearly 70% of U.S. GDP and nearly 65% of the U.S. population. We recognize that climate change is already impacting our communities, and bold, urgent action to reduce greenhouse gas emissions is necessary to prevent the worst impacts of climate change. We also recognize that such action represents a tremendous opportunity to grow the clean energy economy both globally and domestically.
COP25 is a critical moment in the process to mobilize a full, international response to the climate crisis. While the United States is the largest economy in the world, and the second largest emitter, no one country can solve the climate crisis - we must work together to uphold and strengthen the Paris Agreement. American participation in this process is necessary to hold other major polluters to account and to ensure that Americans are benefitting from the global energy and economic transformation over the coming decades.
Here at COP25, we will be meeting with foreign leaders to collaborate, exchange ideas, and express our desire for a productive outcome of the negotiations. We are doing everything we can to rise to the challenge of the crisis, and we need urgent federal action in the U.S. that is driven by the science. On behalf of millions of Americans, we support the Paris Agreement and are mobilizing American climate leadership so that our future and the future of our children remains bright. We Are Still In.
Click Here for More Information About the US Climate Action Center at COP25