Madison Children's Museum (MCM) has been at the forefront of sustainable exhibit design in the children's museum field for over two decades, earning the museum several Promising Practice awards from the Association of Children's Museums as well as the Institute of Museum and Library Services' National Medal for Museum Service.
The museum's Board of Directors formally adopted an institutional Sustainability Mission Statement in 2004, which underlies all of the museum's work. In 2005, the Museum purchased a 56,000-square-foot historic flatiron building on Madison's Capitol Square. The central location and ready access to public transportation were factors in initially choosing the site. The decision to renovate the building rather than bulldozing and starting from scratch allowed MCM to conserve resources and minimize waste.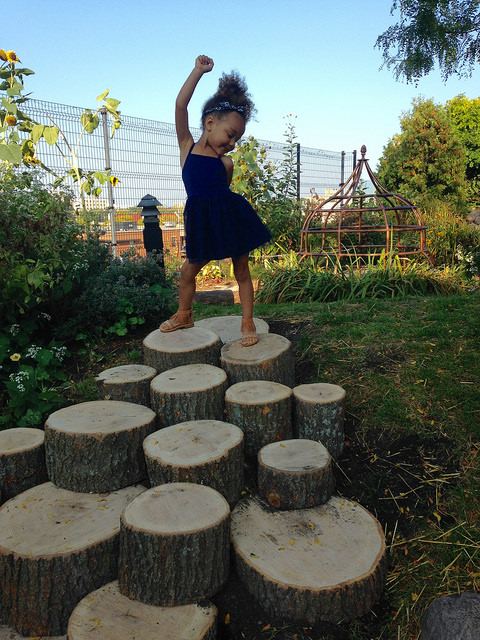 The building is outfitted with sustainable mechanicals and Daikin HVAC systems to maximize heating and cooling efficiency through Wisconsin's changing seasons. Solar panels on the rooftop allow kids to monitor the amount of energy captured by the sun. Within the building, MCM's facilities team has worked to streamline energy output and reduce waste. The museum's current site opened in 2010 and in 2014 MCM was awarded LEED Gold certification for an existing building.
Furthering MCM's commitment to sustainability, the museum's Only Local initiative guides the museum's programming and operations by focusing on the local in everything the museum does: local people, local products, local knowledge, local culture, local artistic talent and local concerns. Over 15,000 local individuals—from fabricators and contractors to elementary school students—contributed to the construction and exhibits of the museum. Green design highlights include Possible-opolis, an exhibit built with 95 percent reclaimed materials, Wildernest, an early learning play space built from locally sourced natural materials, and a four season Rooftop Ramble, a living exhibit featuring urban agriculture and environmental sciences.  
MCM education programs connect children to one another and the world around them through immersive experiences that support healthy and sustainable child development, environmental education and sustainable habits, community-building, civic engagement, and creative expression. Newer program initiatives in 2017-18 focus on mindfulness, empathy and kindness curriculum in an effort to support children's social-emotional development as they forge relationships with one another and the world around them.
Looking forward, MCM is developing plans to further increase opportunities to promote sustainability and wellness by converting a former parking structure on its property into a beautiful, accessible outdoor play environment designed by, with, and for the community.