A green oasis in the middle of Pittsburgh, Phipps Conservatory and Botanical Gardens has been connecting its visitors to nature since 1893. Today, Phipps has expanded to establish itself as an international leader in green energy, net zero energy buildings and sustainable programs and research. As part of its efforts, Phipps has exceeded the Paris Climate Agreement goals, reducing its carbon dioxide emissions by 56% per square foot of building since 2005.
Phipps' green evolution began in 2005, when it opened the first LEED®-certified visitor center in a public garden. The following year, construction was completed on the first and only LEED®-certified production greenhouse (Platinum EBOM) and a 12,000-square-foot Tropical Forest Conservatory that has no greenhouse effect, is 100% passively cooled and remains cooler inside than outside in the summer. In 2012, Phipps opened the Center for Sustainable Landscapes (CSL), the first and only facility in the world to meet four of the highest green building standards: Living Building Challenge™, WELL Building Platinum, Four-Stars Sustainable SITES™ and LEED® Platinum. The CSL generates all its own energy through 125KW of on-site photovoltaics and captures and treats all of its storm and sanitary water. It was joined by the modular net-zero energy Nature Lab at Phipps in 2015. Phipps is working on its third net-zero energy building, a renovation of a former public works building as an Exhibit Staging Center. The CSL will soon be the centerpiece of a Living Campus showcasing a dynamic spectrum of net-zero energy projects — new, modular and renovation — all on a single site.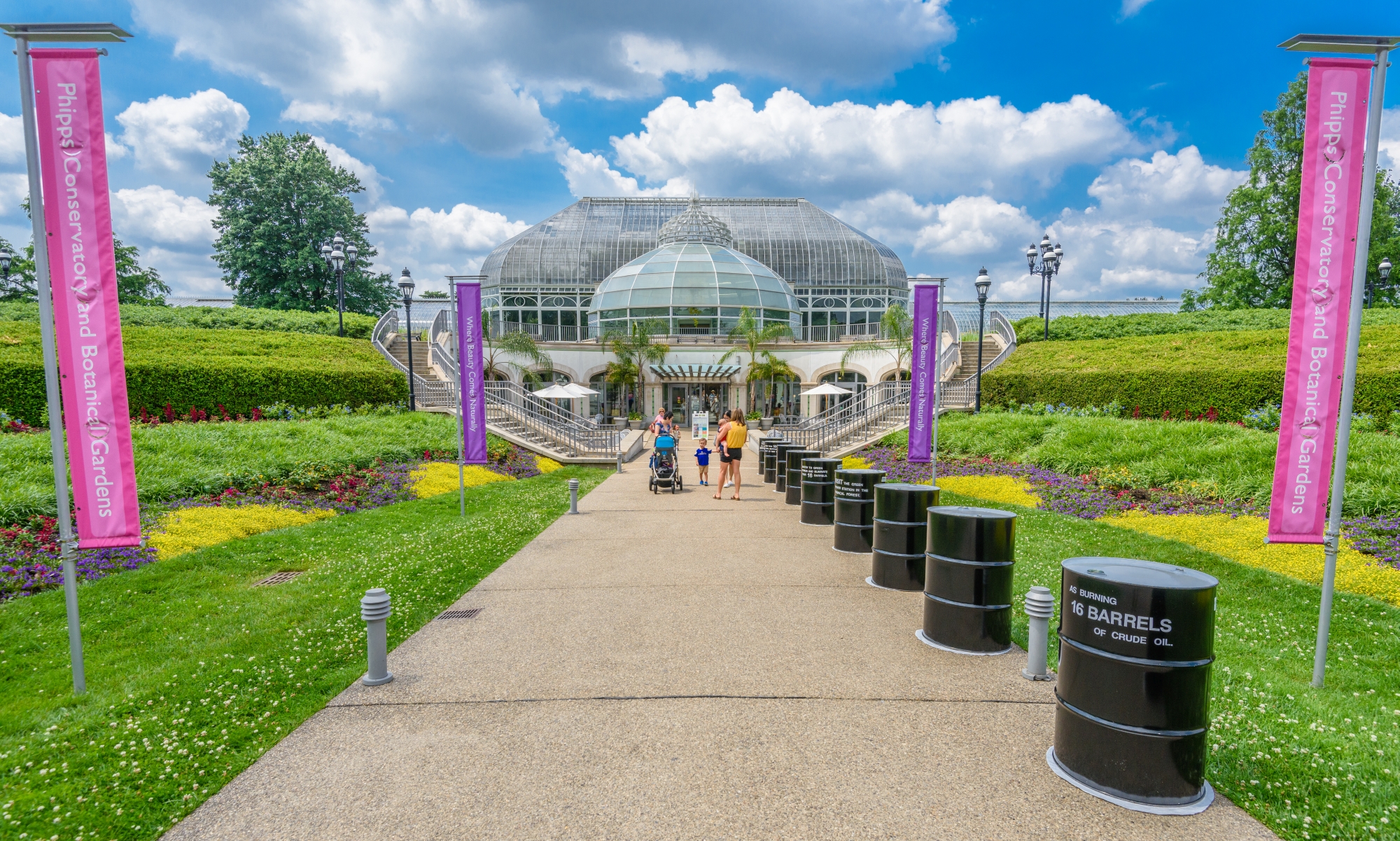 During this same time, Phipps has taken a systems-based approach to refining its operational standards. Since 2005, 100% of campus electricity has been produced on-site with solar and wind or offset by renewable energy credits. All carbon produced to heat Phipps facilities is offset with carbon credits. Phipps' horticulture program focuses on organic principles, minimizing the need for fossil fuel based fertilizers and pesticides. All energy sector investments in Phipps' portfolio have been reinvested in renewable energy. Phipps' café features local and organic produce, has eliminated hormones, antibiotics and nitrates from meats; eliminated plastic disposable serviceware, bottled water, soda and junk food; composts all pre- and post-consumer waste; and uses humanely raised animal products and rBST-free dairy products.
All of Phipps' efforts are rooted in the desire to promote healthy, responsible living to its nearly half a million visitors each year. In 2017, Phipps launched the Make the Switch at Phipps! Green Power Drive. When guests switch their home electricity source to renewable energy during their Phipps visit, they receive a free family membership. To date, over 3,500 guests have made the switch, preventing CO2 emissions equivalent to 58,000 barrels of oil being burned. In 2018, Phipps held its first Sustainability Training Workshop for professionals interested in building more sustainably, and its second-annual One Health One Planet™ conference, which unites thought leaders from disparate fields in the environmental and health sciences to forge a shared interdisciplinary definition of health.